Venue
City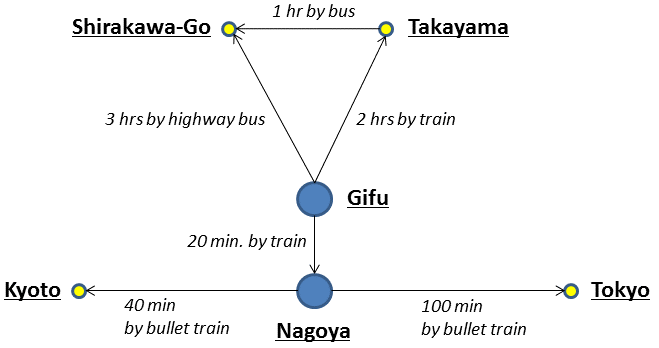 ER 2016 will be held in Gifu, a suburb area of Nagoya, located in the center of Japan. Gifu is easily accessible both domestically and for travelers coming from abroad. Gifu Railway Station can be reached by local train in 20 minutes from Nagoya, 1 hour from Central Japan International Airport (CENTRAIR, the third largest airport), 2 hours from Tokyo, and 1 hour from Osaka, 40 min from Kyoto by train. Gifu is blessed with an environment full of natural beauty; the Nagara River is running through the center of the city. It is a historical city with Gifu Castle, a central landmark in the history of 16th century. The average temperature is 11.9 degrees Celsius in November.
Conference Venue
The conference site is International Convention Center in Gifu (Nagaragawa Convention Center), and it is located by Nagragawa river. It was designed by Tadao Ando, a famous Japanese architect, and constructed in 1995. A part of Asia-Pacific Economic Cooperation (APEC) meeting was held in 2010 and Cabinet ministers related to industries from Asia-pacific conutries came to the center. Because of its location and having an obervation deck at the front electric-movable door in a international conference room, visitors can always have very beautiful scenary of Gifu nature, Nagaragawa River and Kinka Mountain.
Travel Info.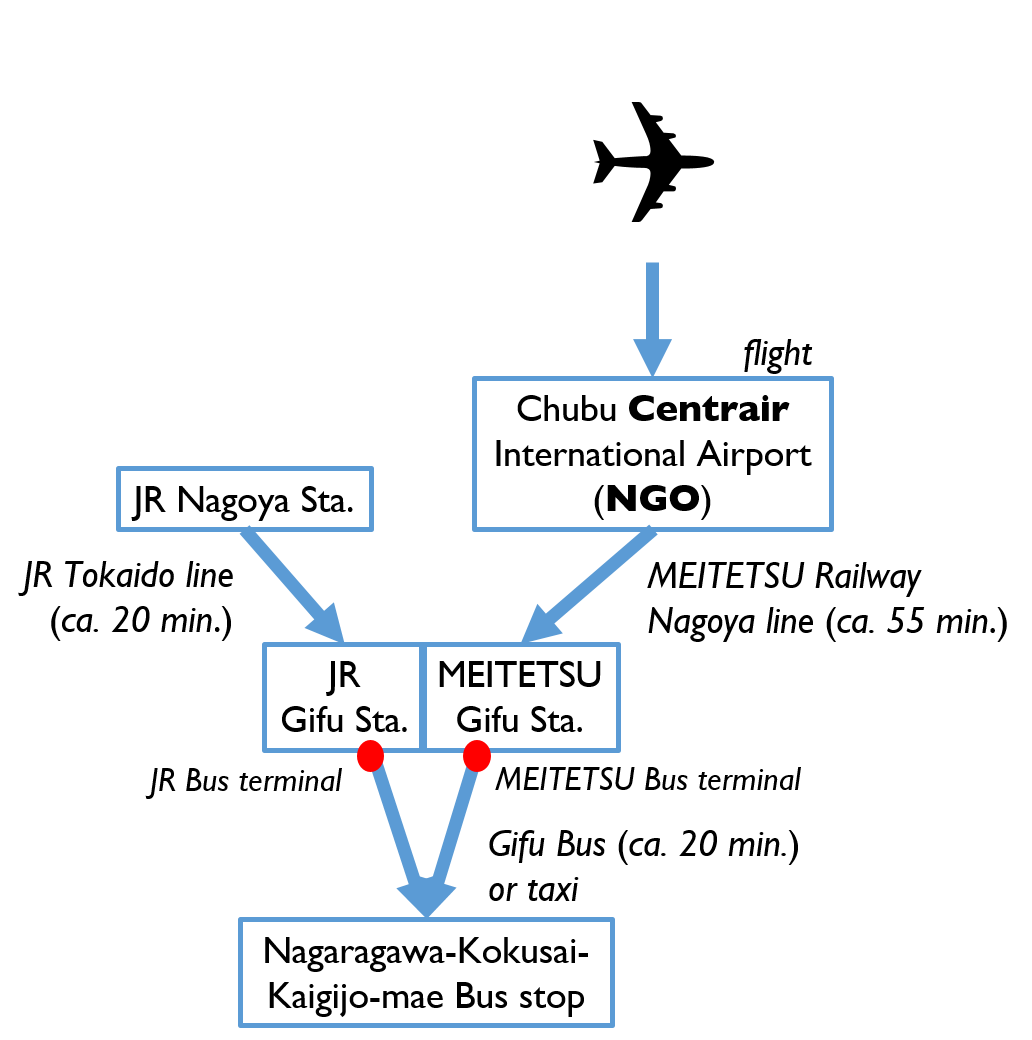 Chubu CENTRAIR international airport is the best one to go to Gifu. CENTRAIR has direct trains to Gifu station about every 30 min. See the time table of trains on weekdays from CENTRAIR to Gifu (precisely, MEITETSU Gifu, Gifu station of Nagoya Railroad company, about 200m away from Gifu Central station) and its opposite direction.
The access information provided by Gifu Miyako Hotel is also useful for you. This hotel is located in front of the conference venue, and registrants can book this hotel via the conference registartion site. Note that a registrant can book this hotel via the conference registartion site; see the registration page for the details.
[Bus]
At MEITETSU Gifu Bus Terminal

at No. C bus stop, take the Mitahora line any of K50, K51, and K55 - and ride to the Kokusai Kaigijo Mae stop, (210 JPY for bus) get-off there and 2 min walk to the venue

At MEITETSU Gifu Station (in front of the Bank of Tokyo Mitsubishi UFJ)

at No. 4 bus stop, take a bus for the City Loop (Counter-Clockwise) line - and ride to the "Kokusai Kaigijo Kitaguchi" stop, (210 JPY for bus) get-off there and 3 min walk to the venue

At JR Gifu Station Bus Terminal

at No. 10 bus stop, take the Mitahora line any of K50, K51, and K55 - and ride to the "Kokusai Kaigijo Mae" stop, (210 JPY for bus) get-off there and 2 min walk to the venue
at No. 11 bus stop, take a bus for the City Loop (Counter-Clockwise) line - and ride to the "Kokusai Kaigijo Kitaguchi" stop, (210 JPY for bus) get-off there and 3 min walk to the venue